Make Up Mission
Yesterday while out with my bestie, April, and her baby we had to make a "quick" stop to Rite-Aid for pictures which ended up in me scouting the beauty products/make up aisle for a good 45 minutes. I've been on a mission to branch out of my comfort zone when it comes to beauty products. However since I'm a little clueless when it comes to this stuff I have no clue on what to look for and where to start.
Now that the weather is heating up (except for today) humidity is my worst enemy when it comes to my hair. I have natural curly/wavy hair that looks awesome at times, but could use some help for defining my curls better. The worst though is when I straighten my hair it immediately curls thanks to the humidity. I've tried anti-frizz spray, and hair spray, but I don't want that stiff feeling. My conclusion is I need to experiment with different products like serums, mousse, and the like. But there's so many out there which one do I choose??
After hair products I went over to nail polish, my current obsession. So many brands, and every color of the rainbow imaginable I had no clue where to start first. I did come across some of Essie, and came across this soft pink that I'm dying to get my hands on called "Ballet Slippers".
I. Am. In. Love.
I love experimenting with different colors with nail polish, and I've been looking for that perfect pale pink. I think I may have found it so next payday I'll be back to Rite-Aid to get this, and maybe a few more colors. It just better worth the $8 price tag since you all know I'm frugal with my money.
My other item on my mission--eyeshadow. With having such oily skin on my face, I tend to stay away from any that is creamy or will cake easily. Yes eye primer works (like the
Mary Kay primer
I have used diligently lately), but I prefer something that is shimmery, and easy to put on that isn't heavy or creased after just a few hours. My go-to palette is the "Shimmering Sands" from CoverGirl, but I'm looking for more color options. I love nudes, browns, and pinks, and just need a more variety. Plus as said before I need to experiment with different brands. Which are your favorite (and budget-friendly)?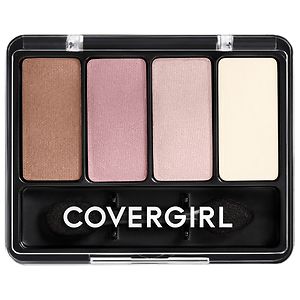 "Pure Romance" by CoverGirl...definitely on my list to try.
So as you can see I have my work cut out for me. With so much out there I'm gonna have to suck it up, and just step out of the comfort zone. In the next few weeks I'll post my finds, and opinions, but in the meantime tell me about your favorite beauty products, and suggestions that I could try! Have a beauty-ful day!!